As I've said before, Nate loves
interactive books.
The more flaps to lift, tabs to pull, fluffy spots to touch, the better. The very first interactive book he received was
B Is for Bear
. He got is as a Christmas present when he was about four and a half months old. By the time he was six months old it was his absolute favorite and he wanted to read it at least twice a day - EVERYDAY.
Each page has one big picture to accompany the corresponding letter of the alphabet. The best part is that many of the pictures have something to touch. Nate's favorite was always the D page. He would go nuts petting the fuzzy ducks. This book was also one of the first ways in which I saw that Nate was starting to anticipate things. He always knew when Y is for You was coming up. It was absolutely adorable to watch as he got excited to see himself in the (slightly warped) mirror. It was so cute to watch as he would inevitably try to make out with himself in the mirror as well. I should probably clean those slobber marks at some point...
Now that he's a bit older (ONE YEAR TOMORROW!), he still really likes the book. He's not as enchanted as he once was, but we can still count on a few still minutes of reading time when we choose this book from our collection. Since we have a crawling maniac on our hands, we'll happily take a few still minutes whenever we can get them!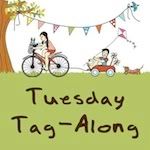 I'm participating in my first Tuesday Tag-Along. I'm hoping to find some great blogs and make some blogger friends! If you want to participate too check out
Twee Poppets
.