The rarely seen, never before photographed, tigiraffe was spotted this morning in his natural habitat. Subsisting mainly on remote controls and "crotch food" (the morsels of banana and avocado that fall in between the legs and are recovered upon exiting the highchair), the tigiraffe is an animal you don't want to cross. While it can be very sweet and cuddly at times, it has been known to throw it's body upon the floor in a fit of rage and despair if you attempt to change it's diaper.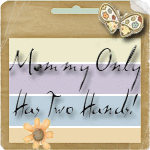 I won a caption contest over at
Mommy Only Has Two Hands
this week. My prize was being featured on her blog! Check out my interview with Heather
here
.